- Blue Orange Games. Jan 01, 2011 Test your observational skills and your reflexes with the award-winning gameplay of Spot It! A game of lightning-fast choices for two to eight players. With dozens of awards and possible versions married to elegant gameplay, Spot It! Has become a global phenomenon. Five distinct mini-games within a set of Spot It!
Spot It is a fantastic card game for your family!
(How quick is that for a review? Too quick, then read on for a little more.)
Spot It is a quick card game that only takes a minute or two to play and is all about spotting the image that matches on two cards before everyone else does. The tricky thing is that for any two cards in the deck, 1 and only 1 item will match. That's great game design!
It may sound super simple, but that's what makes it so enjoyable for families to play together. People of all ages can play it and enjoy it.
Check out Brooke's video review to see how to play Spot It and what she thinks of the game.
Can the whole family enjoy Spot It?
Spot It is great for families.
Because of the simple play and the type of art on the cards, you may think that it's just a kids game. But you'd be wrong. Playing with adults is a lot of fun too because of how competitive people become as soon as the cards are turned over.
Since there's multiple ways to play it, you can find the one that your family likes best. And if you have some in your family that are super spotters and seem to always win, then you simply adjust the starting conditions to balance it out until the others improve in their spotting capabilities.
More about the cards
The design of the cards it perhaps the coolest thing about the game. With 55 round cards in the deck, each with 8 images on it, and 58 total assorted images it's amazing that on any 2 cards there will only be 1 item that matches. Every card is unique, and has only one image in common with each card in the deck. We still scratch our heads about it, but not for very long because we jump right back to playing.
The deck packs into a compact tin that you can carry with you practically anywhere. And you don't need much space to play it at all. Plus it plays so quick that it's easy to pull out when you have a few extra minutes with your kids. It can even make a great bedtime game. Of course, we'd suggest you make it clear how many rounds you're going to play before you start because it will be easy to get carried away.
How does Spot It score on our "Let's Play Again" game meter?
Spot It scores very high on our "Let's play again" game meter. The simplicity of it brings us back for more quite often. And once it's out, it's so easy to play over and over. We'll leave it out on the table and it will get played repeatedly – a few minutes here, a few minutes there.
Thanks Blue Orange Games for a great family card game!
The Board Game Family Game Ratings
Caleb
Brooke
Jaden
Trevor
Has not played
Mom
Dad
Average
Amazon.com Widgets
Other fun family and kid board games:
This post is sponsored by Asmodee Digital. All opinions are mine. But trust me, the kids (and me!) were thrilled to be able to play Spot It Game Online with Spot It! Duel!
I'm a huge fan of game apps and have my fair share on my phone. My kids are following in my footsteps when it comes to games too! So when we got the opportunity to try the new Spot It! Duel app, we jumped on it!
UPDATED AS OF 4/2020: The game no longer appears to be available for download.
Play Spot It Game Online with Spot It! Duel
When it comes to entertainment in our house, our phones and tablets are pretty much king. We can all (no matter how young or old) use them for some sort of entertainment whether it's streaming videos, reading books, or playing games! Extra stars free slot machine.
I know we're not unique in this at all. But it's definitely part of our lives. It feels like the kids are always asking for a new game.
So they were excited to try out Spot It! Duel because they love Spot It! games. A Spot It game online? Perfect mash up of things they like!
How to Play Spot It! Duel
I downloaded the Spot It game app first to check it out before I let Weston get his hands on it. While he loves Spot It games, he can get frustrated easily so I wanted to play first so I could help him in case he ran into any challenges getting started. (I maybe also wanted to play because I like a good puzzle type game. Maybe.)
Spot It! Duel is a lot like the Spot It! card games so if your kids enjoy those, they might enjoy this Spot It game online.
The set up of the Spot It app is simple enough that everyone can play with ease.
Here's how it works: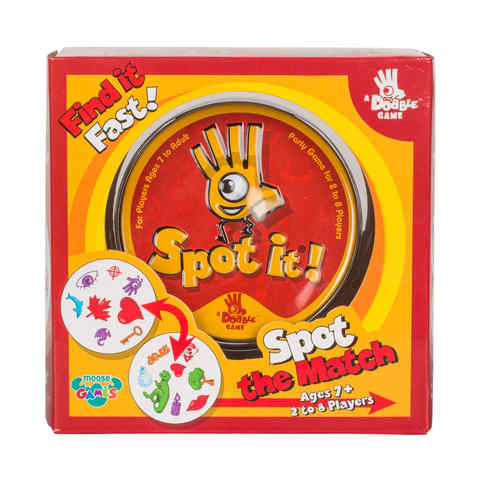 Each player has a disc filled with different symbols.
Match the symbols on the center disc and they disappear. You earn score points for matches.
You can also build larger combos to earn even more points.
Your opponent can match to symbols on your disc while you play! That makes them disappear from your disc!
Player with the most points wins the game!
Spot It Card Game How To Play
It's that simple.
There are a couple different ways to play. You can play a solo game or play a multiplayer version against someone you know or someone you don't!
The great thing about having a Spot It game app is that it can be played anywhere and anytime you want to play, for free!
UPDATED: The game is not currently available to download on either iOS or Google Play.
Why We Like Spot It! Duel
After I played for a while (maybe longer than I will admit), Weston took over the game and then eve Carrigan got involved playing. I love that we were all able to enjoy the game together! Weston is almost seven so he's able to play on his own without any trouble. At almost four, Carrigan really needed someone to play with her so she didn't get too frustrated.
Her challenge was just the speed aspect and that she is now starting to understand winning and losing. And she always wants to win. That's a three-year-old thing though, nothing to do with the game itself!
Our favorite things about being able to play a Spot It game online are:
Spot It Card Game Target
We can take Spot It! Duel everywhere we go! So we can play while traveling or waiting at the doctor's office or at baseball practice! No cards needed to play!
The app is free to download! My kids always want new games so this is great for me!
The graphics are fun!
It's easy to use so the kids have no trouble playing independently.
The game is based on the familiar Spot It! game so it's familiar to the kids.
Even I found it challenging enough to keep me interested as I moved through the levels!
Play Spot It Online
If you're looking for more great apps we recommend, check out some of my favorite apps for busy moms! Or you can see how we use technology to make time together coloring even more fun with the Color Alive app!